Know of an organization who could use the Africa Study Bible but do not see them on our list?
"Even the best cooking pot cannot produce food."
—African Proverb
As the proverb teaches, a tool is only useful in the hands of someone who knows how to use it. Help Oasis get the Africa Study Bible into the hands of pastors and leaders across Africa and train them in its use. 9000 Bibles have already been distributed through this God's Word for Africa program.
Over 208 Million
believers in Africa are without a Bible
Up to 80%
of African pastors are without formal training
Over 500 Million
believers in Africa are in need of a trained pastor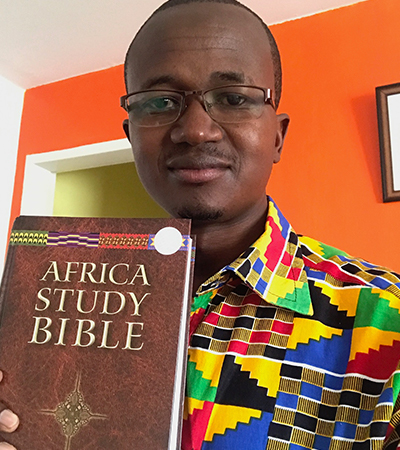 "I wanted to appreciate you for the Bibles. They're wonderful. We thank you for making this possible. I personally have used it a lot and I can tell you it needs to get into the hands of every pastor in the continent."
Pastor Bramuel Musya

East Africa Director, Kids Around the World
A few of the thousands we have already distributed:
140
BIBLES TO
South African Council of Churches
30
BIBLES TO
Global Scholars, Nigeria
16
BIBLES TO
Busia Calvary Baptist Church, Uganda
60
BIBLES TO
Network for African Congregational Theology, South Africa
48
BIBLES TO
PIEI-WOT-Kenya
104
BIBLES TO
Uganda Pastors Conference
96
BIBLES TO
Lusaka, Zambia
40
BIBLES TO
EKHCM students, Ethiopia
42
BIBLES TO
African Evangelistic Enterprise, Rwanda
56
BIBLES TO
Kalamba District Church Council, Kenya
320
BIBLES TO
Zion Bible College, Swaziland
392
BIBLES TO
Africa Theological Seminary, Kenya
50
BIBLES TO
Cameroon Baptist Convention
48
BIBLES TO
More than a Mile Deep, Zimbabwe
330
BIBLES TO
Apostolic Church Nigeria LAWNA Territory
200
BIBLES TO
Multi-Church Pastor Institute, Kenya
320
BIBLES TO
Presbyterian Evangelistic Fellowship (PEF), Sudan
500
BIBLES TO
Teacher-Evangelists, Sierra Leone
With your help we can continue to satisfy Africa's thirst for God's Word.